| | |
| --- | --- |
| | agirlsgottaspaUpon taking Energize Greens for the first time I immediately noticed an energy boost, like having a shot of espresso but without the crash that follows or the jittery feeling that I would normally experience with caffeine. |
| | |
| --- | --- |
| | Galinka Mirgaeva - Enjoying summer on the beach with Energize Greens and Reds. They help to boost my metabolism and provide me with so much energy for the day. Having a perfect summer body is easy with the @energizegreens. |

| | |
| --- | --- |
| | Musthavemom - My kids were BEGGING for more! That says a lot! They aren't usually down for anything green and the fact that they drank an entire glass and wanted more was unbelievable to me. |
Instantly Alkalize Your Body, Feel Energized The Entire Day, & Boost Your Immune System!
Holistic Health Labs SuperGreens Formula

Energize Greens

"I use this supplement on a daily basis. This is truly a quality product filled with all of the nutrients that I had been looking for."~product review by stevespice

| | |
| --- | --- |
| | Green drink mix packed with phytonutrients |
| | Combines 25 of nature's most nutrient-dense green "superfoods" |
| | Also features five species of beneficial bacteria, powerful antioxidants and more |

Maximize your energy levels with the antioxidant nutrition in Green Max Powder! This highly nutritious blend of 25 greens and herbs promotes energy all day long. Just mix with your favorite juice or beverage. Includes beta-carotene, lecithin, spirulina, chlorella, echinacea, alfalfa, and much more.

Energize Greens Supplement Label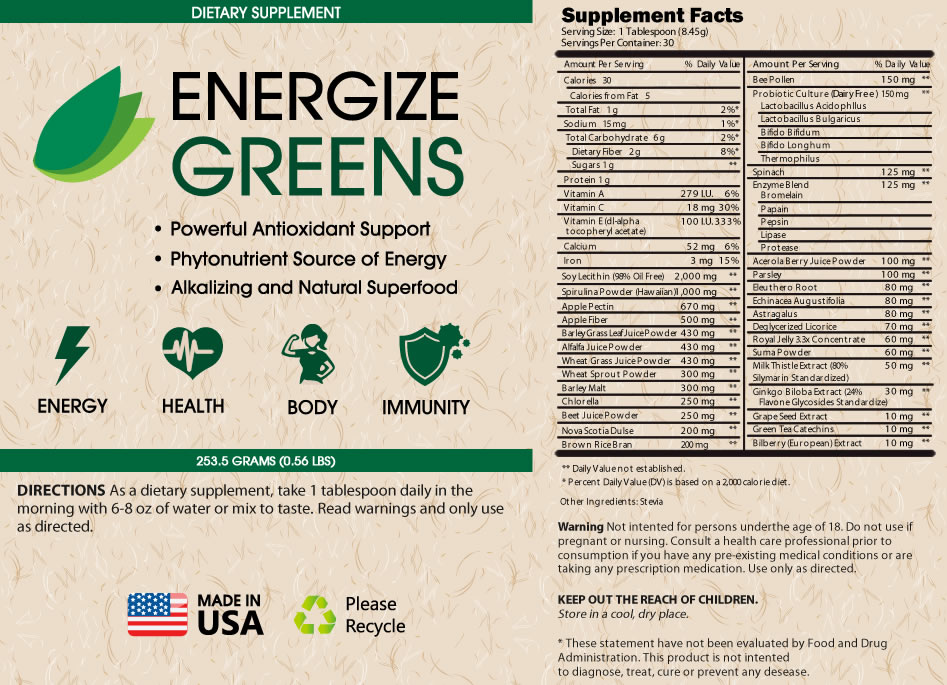 Scientific Advisory Board
Holistic Health Labs Scientific Advisory Board is a team of medical and alternative healthcare practitioners who play an integral role for the education of our customers as well as the research, development, and testing of each Holistic Health Labs product. This team has been put together to ensure quality, delve into the scientific research of each ingredient used in our formula, and offer relevant insights to further improve our existing products and newly developed formula.
Adam Stewart, DMP, DABR
American Board of
Radiology Certified

Drew Sutton, MD FACS
American Board of
Otolaryngology Certified

Gianguido Coffa, PhD
Senior Scientist &
Biotech Consultant